Adding a private pool to your yard is one of the best ways to add luxury to your home. But to make the most of such an addition, we recommend installing roll-up shutters and privacy screens.
Interesting Cabana Pool House Security Ideas
Pool houses come in different shapes and sizes. Regardless of the
type of pool house
you own, adding roll-up shutters or privacy screens can deliver the following benefits:
Party pool houses are ideal for having a great time with friends, family. But if neighbors and other onlookers keep staring, no one can truly cut loose and have fun at a pool house party. That's why the best pool house bar ideas incorporate
privacy screens
.
With our privacy screens over the entryways and windows of your pool house, uninvited onlookers will only have a dim and blurred view of what's going on inside.
Dinners in your pool house should be a relaxing and atmospheric event. But once again, peeping Toms can ruin the mood. A gazebo privacy screen will keep things private, creating a more intimate atmosphere.
Also, it'll keep out the bugs, ensuring everyone can enjoy a delicious meal and scintillating conversation in peace.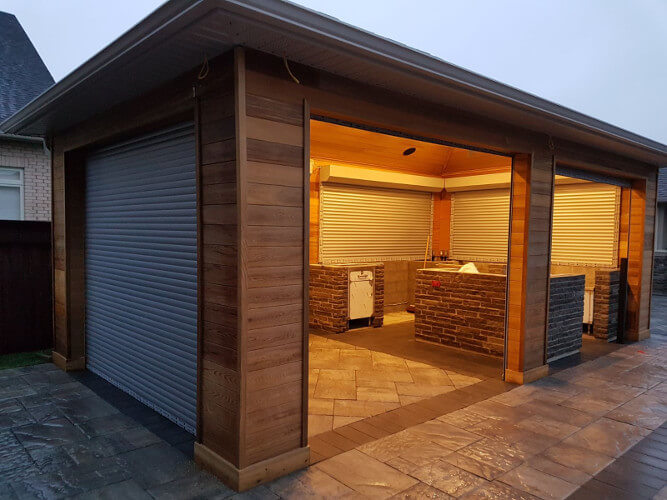 The best modern pool house interior ideas offer comfort and functionality. Such isn't possible without adding comfortable furniture and entertainment systems to a pool house. But since you won't always use your pool house, we recommend installing roll-up shutters.
The shutter will make your pool house burglar-proof, protecting your pricy furniture and entertainment system.
You can set up your pool house to look like a grotto. Surround it with lots of greenery and natural elements to make it look like you are swimming in a brook rather than in a pool. But that much greenery can attract bugs and critters.
Installing a privacy screen will ensure not just privacy, but also keep out blowing leaves, critters, and bugs that might invade the area.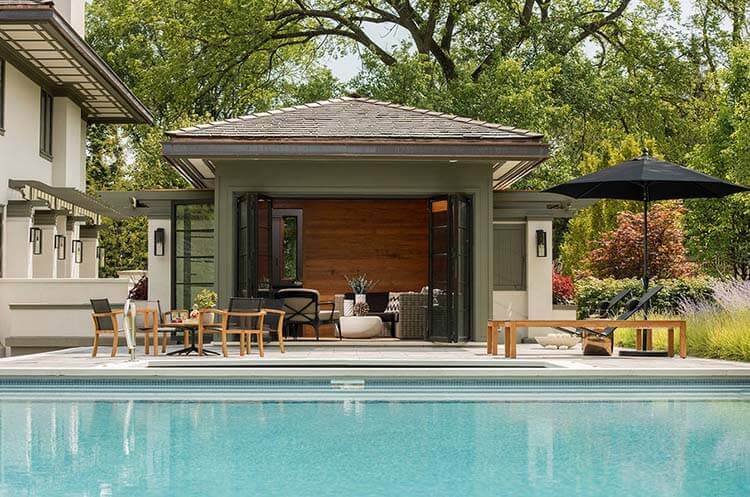 If you've turned your pool house into a woman or man cave, you don't want people barging in on you. Whether you are in it or outside, roll up shutters will keep out intruders. And for the days you want natural light and fresh air, you can roll up the shutters but leave the privacy screens down. That will keep the people outside from seeing inside but let in lots of light and ventilation.
Just as important, the screen will reduce sunlight glare on bright sunny days.
Customizing Your Pool House or Cabana
There are lots of things you can do to customize your pool house – lights, entertainment systems, furniture, and more. But one customization you shouldn't ignore is adding shutters and/or a privacy screen.
Installing the right shutters around your pool house will add to its aesthetics. For a more natural look that blends in with your tropical oasis pool house, consider shutters in a warm wood color. For a modern pool house, go for shutters in a color that complements that of the pool house.
But aside from aesthetics, pool house Toronto experts recommend installing shutters to keep out intruders and peeping Toms. They're great for privacy, especially during periods when your pool house is not in use. They also add an extra layer of security that intruders will have a harder time getting past.
Protects Your Pool House From Extreme Weather
Another upside of installing shutters is protecting the interior of your pool house during extreme weather. For instance, during stormy or extremely windy days when tree branches and other debris can cause damage your pool house windows,
shutters over the windows
provide an extra layer of protection.
They're also useful for protecting your interior from harsh sun rays on days you aren't using the space. That way, direct sunlight won't damage your pool house's furniture.
But while shutters are useful for privacy and security, using them is most ideal when you are not in the pool house. If you want to enjoy your pool house with ventilation and natural sunlight, installing privacy screens is a better choice.
Improve Your Privacy And Protection From Excessive UV Rays
Whether it's a
pool house garage
or a Cabana, installing a screen provides privacy by making the interior of your pool house less visible, while maintaining your view and access to natural light. Privacy screens also provide the benefit of reducing glare by blocking out excess sunlight. That makes it a great choice for protecting you and your pool house's interior from harsh UV rays.
It's also great for letting in fresh air without the bugs one has to worry about when relaxing in an open space. That's because the privacy screen has tiny perforations in it that are large enough to let in air but keep out most insects. And since it'll keep out leaves and other flying debris that usually litter your open pool house, you'll have less clean-up and maintenance to worry about.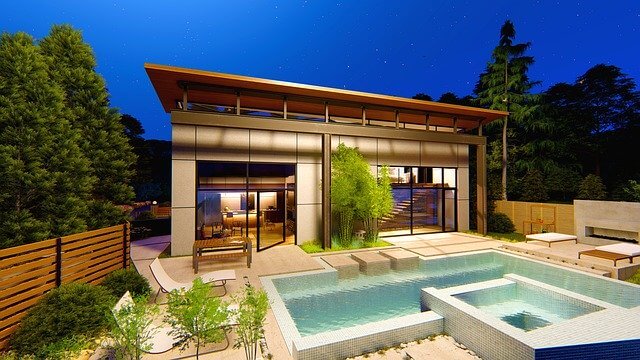 For complete protection, we recommend installing both privacy screens and shutters. Shutters offer protection for periods when you won't be using your pool house, and privacy screens help you make the most of your pool house while you're using it.
If you are uncertain about which of the two to go for, our experts can provide you with recommendations that best suit your unique needs and budget.