Nine percent
of small businesses are burglarized each year. On the one hand, these break-ins result in property and financial losses. On the other hand, they represent an irrevocable breach of security and the looming threat that it might happen again.
It is natural to ask, "What can I do to secure my business?" After all, the company is your passion project, your brainchild, and, most likely, your primary source of income. Taking steps to protect this investment can make all the difference for your financial, mental, and emotional bottom line.
One of the simplest ways to secure a business is to use a roller shutter. These customized facades provide a strong deterrent to unwanted intruders while protecting valuable assets and inventory. Here are five reasons why
roller shutters
may be the best investment your business ever makes.
Rolling shutters offer a myriad of benefits. However, the most significant one is the added protection. For starters, the network of metallic slats is a visual deterrent. People are less inclined to trespass on a property with a gate because there is a physical barrier. A rolling shutter does the same thing for a commercial storefront.
Furthermore, the shutters are customizable. Business owners can select from a wide range of up to 1500 colours, in addition to dimensions that fit the storefront. That way, owners can rest assured there is no weak point that an intruder could exploit.
The lack of a deterrent is on the top of intruders' lists when scouting for potential burglary targets. Without a defensive mechanism, there are fewer obstacles preventing them from carrying out their crime. Rolling shutters shut down these opportunities with a visual and mental barrier that is impossible to remove without causing a ruckus.
The businesses that have arguably benefited the most from roller shutters are in the cannabis industry. This up-and-coming market often has stores with thousands of dollars in stock. Thanks to our
aluminum cannabis dispensary shutters
which are tailor-made to fit, cannabis companies can keep their products on the right side of the storefront.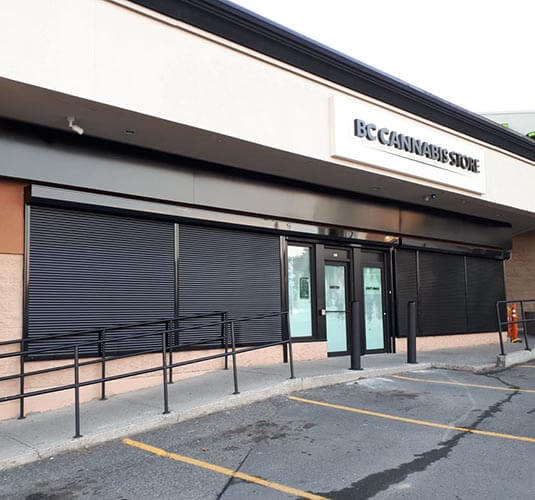 Privacy matters. It creates a social boundary. It allows business owners to have control over operations behind closed doors. Last but not least, privacy enables freedom of thought and speech.
Rolling shutters let companies act without external pressure outside of business hours. For instance, employees can prepare the store undisturbed. Not only does this addition create a reassuring and hospitable work environment, but also a more efficient use of time.
While burglaries are relatively uncommon, the stress about a potential incident can have real consequences.  It can erode our physical, mental, and emotional well-being in a way that eats into our performance, sleep, and happiness. Unfortunately, stress levels are only rising. More than 60 percent of Canadians reported feeling
the same or more stress
than they did five years ago.
As a business owner, you already have enough things that cause stress. That includes, but is not limited to, sales, marketing, payroll, taxes, collaborations, new products or services, trends, increasing competition, and security. Rolling shutters allow you to cross "security" off your list, so you can focus on the more essential parts of running a business.
Stress does not have to be a way of life. Rolling shutters can mitigate that constant source of concern with robust protection thanks to rolled and extruded aluminum components and durable hard resin. Plus, we have a five-year warranty for even more peace of mind.
If Your Asking Yourself "How can I secure my business" The Answer Is:
Installing Commercial Security Shutters
Advertising Opportunities
When you think "secure my business," the odds are it is from a physical perspective. For instance, you want to protect against people potentially coming in and stealing property. Of course, it can also mean you are securing your business through strategic advertisements.
Business owners can print stylish custom banners or advertising on their roller shutters. This marketing gives companies a way of promoting themselves, even after hours. Some of the most popular vinyl wraps include photos, business information, or marketing promotions.
Rolling shutters act as a form of insurance. They protect against a possible eventuality, which in this case is burglary or theft. That investment will preserve hundreds of thousands of dollars of inventory and space for a fraction of the price.
Put another way: would you pay a few hundred dollars to all but guarantee the protection of your commercial property? Yes, of course, the financial savings are enormous. Any logical person would do it immediately.
Unfortunately, some people only recognize the value of a rolling shutter after they've been burglarized. While there is truth to the statement "better late than never," lost property should not be the sole catalyst for the purchase. Take the time to protect your business.