Boathouse Security Through Roller Shutters in Ontario and the GTA
Are you look for boathouse security doors? you probably want to make sure your boathouse is comfortable to use and safe. To increase boathouse security, most owners decide to install rolling shutters. Not only do rolling shutters improve privacy and keep your household properties protected, but they also add to the external appearance. Contact the specialists to find out more about ROLLerUP custom roller shutters, based in Newmarket, Ontario and serving the Greater Toronto Area.
Common Benefits of Installing Rolling Shutters on Your Boathouse
Installing roller shutters is an excellent way to protect your boathouse from wind, rain, and other environmental elements. You can install a rolling shutter door to secure your belongings or protect your fishing equipment. Rolling shutters provide numerous benefits. Let's look at some of them.
The main reason why homeowners and businesses decide to install roller shutters is to increase boat house security. Protecting your items against theft and vandalism comes as a bonus. The roller shutters act as a boundary and are strong enough to hold off force applied.
Cheap brands of shutters won't provide any benefits to your boat house since they are not as burglar-proof and strong as they should be. Only shutters with the right materials and highest quality have an impact on keeping your house safe and protected. Ask us at ROLLerUP about which materials are best for your boathouse.
When looking for shutters to increase your boathouse security, look for:
Aluminum
Powerful (high-quality) motors
Manual lock (if you want manual shutters)
Non-rust and non-corrosive material
No big gaps (a thief may use the gap to open your shutter and enter your house)
Increase Energy Efficiency
Roller shutters are one of the best energy savers for your boathouse. The installation of insulated shutters can reduce energy costs due to their high heat retention. The shutters provide excellent insulation and also keep your kitchen and bathroom dry at all times. If you love cooking at home, you'll be able to prepare food in your small kitchen without any trouble.
Here are the best features of high-quality boathouse rolling shutters:
High-tech sealing technology
Powder-coating
Full (improved) safety system
Fast-operating motor
Excellent thermal insulation
If outside noise disturbs you, rolling shutters are the perfect solution for you. The latest double block-out shutters have a built-in technology that reduces noise levels up to 50%. The best part is that noise works both ways, so you won't have to worry about your boathouse neighbors complaining about late-night noise or loud music.
At ROLLerUP, we design rolling shutters for boathouses to open and close quickly. An option like this helps prevent any heat loss while allowing air circulation and movements of people through the boat. They are super-easy to use and don't require additional maintenance to ensure excellent performance.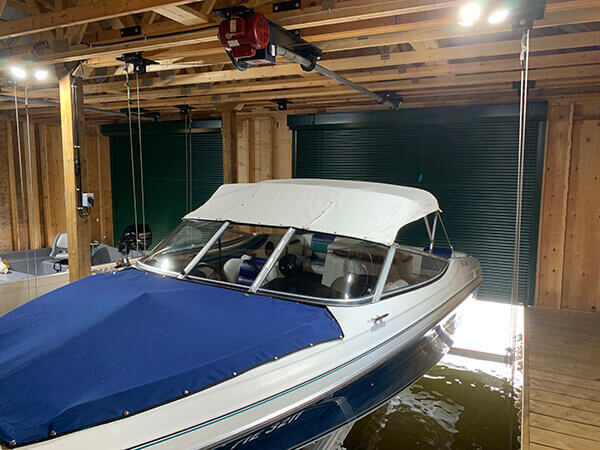 Another advantage of installing rolling shutters in your boat is the privacy you'll enjoy. Even if your boathouse faces busy surroundings, you wouldn't have to worry about other people's snoopy eyes. Look for rolling shutters made from high-quality metals such as aluminum and stainless steel.
You don't want water, dust, or dirt to enter your house, especially your kitchen or bedroom. Shutters are excellent at maintaining hygiene and keeping your house clean at all times.
Improve Light and Air Control
When it comes to roller shutters and natural lighting, shutters provide an added flexibility. The ability to bring down or roll away the shutter at a press of a button gives you better control over lighting. No other window covering option can compete with rolling shutters–they also protect boat houses from harmful UV rays. You can choose to blacken the entire house or leave the shutters wide open so enough sun floods your home.
Roller shutters also give you control over the airflow. When the weather is nice and warm, you can open the shutters to allow fresh air to stream through the doors or windows.
Protect Against Bad Weather
No matter the location of your boathouse, rolling shutters never fail to provide excellent protection against bad weather conditions. With a proper installation (done by a professional rolling shutter installation company like ROLLerUP), you can rest assured that your boathouse is safe and protected during rain and storms.
Installing boathouse rolling shutters doesn't mean you have to sacrifice the aesthetics. Since rolling shutters, doors, and windows are available in different designs, sizes, and materials—including aluminum, wood, steel, and stainless steel—you can choose which goes well with your exterior decor.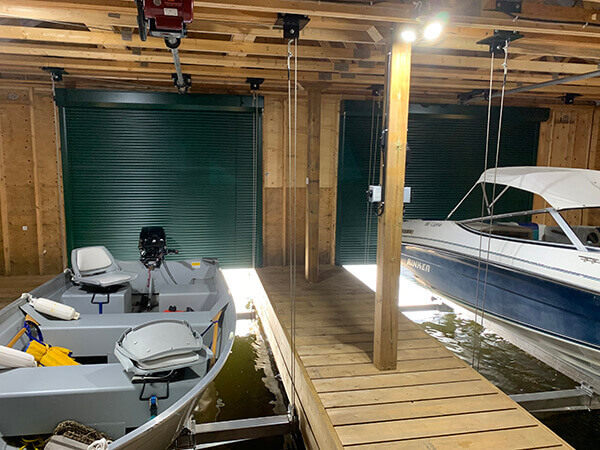 Five Steps to Take When Choosing Rolling Shutters for Your Boathouse
As youchoose your rolling shutters from ROLLerUP, make sure to:
Step 1: Select the type and series of the rolling shutters. Consider your boathouse size.
Step 2:Select the type of profile. Consider the level of protection, heat, and noise insulation.
Step 3:Select the size of the profile. Consider the dimensions of the opening–door or window, and wind loading requirements.
Step 4:Select the operating system. There are two types of operating systems: manual and automatic. If unsure, consult with your rolling shutter installation company, and they will help you select the right option for your needs.
Step 5:Select the locking system. The locking system depends on the operating mechanism.
How to Install Security Boat House Rolling Shutters
With so many benefits in one solution—the added value to your boat house plus savings on your energy bills—roller shutters will prove to be the perfect option and a worthwhile investment.
At ROLLerUP, we fabricate all roller shutter components from high-quality and strong aluminum and then coat them in your choice of color. You can rest assured they are non-corrosive and robust enough to withstand any weather conditions.
The main advantage of our roller shutters is security–something we never compromise on that is a top priority in our business. We stand by the durability and quality of our products.
If you want to improve your boat house security and add extra protection, call us today at ROLLerUP—serving Newmarket, Ontario, and the Greater Toronto Area—for a free estimate.