Enhance Security And Privacy With Attractive Patio Roller Shutters
Have you discovered the benefits of attractive patio roll up doors? If you haven't heard much about these stylish patio roller shutters yet, you'll discover some important benefits by taking a brief moment to learn more about them. A growing number of upscale custom home builders now incorporate this feature into architectural design and interior decorating plans. Together with breezeway shutters, this technology offers impressive advantages. 
Patio Privacy And Security
Today, millions of Canadians reside in properties which include patios. Even some commercial sites now embrace this feature, too. Typically accessed via glass doors, these locations provide ready egress to the outdoors; they sometimes adjoin decks, gardens, or private rear entrances. 
While patios add value to fine dwellings and boutiques, this popular design feature does harbour two rather significant drawbacks. First, transparent patio doors may detract from privacy. When allowed to remain untainted, the glass permits people outside the structure to see the interior easily. Second, readily accessible patios also sometimes pose a security risk. An intruder may jimmy open sliding glass doors, or even break the glass and enter through the opening.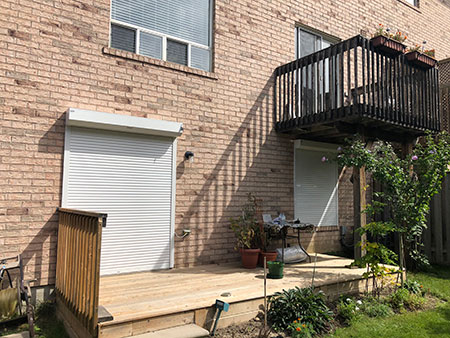 PATIO ROLL UP DOOR INSTALLATION & REPAIR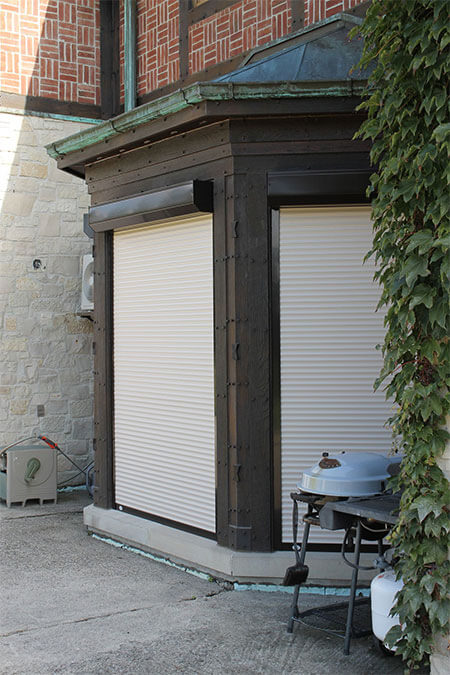 Secure Patio Roll Up Doors
Fortunately, an intelligent solution exists for resolving patio privacy and security problems: patio roll-up doors equipped with secure patio doors feature. Perhaps not surprisingly, these doors have recently gained wider use. As more customers appreciate their advantages, the popularity of well-manufactured, fashionable patio roll-up doors will likely continue to spread. 
A closely related product, breezeway doors, helps secure open corridors leading between the interior of buildings and outer wings, outbuildings, or garages.
Our patio rolling shutters can be manually operated or operated using an electric (i.e. motorized) motor. Voice and remote shutter operation are also available.
The shutters consist of a sturdy network of aluminum slats connected together and capable of folding flat to permit rolling. Occupants can raise or lower these shutters easily at will. The material simply rolls tightly into a shutter box affixed overhead to the exterior or built into the building itself.
The Features of Our Patio Roller Shutters
Our beautiful patio roll up doors offer strong aluminum construction and important easy maintenance features. They occur in a variety of lovely colours. Made in Canada, these products enhance privacy and security, while also protecting glass doors and windows against hail, sleet and blowing debris.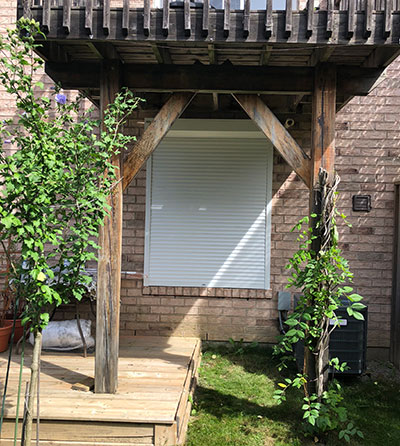 Roller Shutter Color Options
We offer 4 standard colour option for our roller shutters and over 1500 custom colours you can choose from. The shutters can also be wrapped with vinyl wrapping, the same process that is common with wrapping cars and trucks for advertisements.
ROLLerUP offers the option of an anti-graffiti coating to be applied on the roller shutters. This special coating protects the shutter surface from many elements such as paint and dirty. The anti-graffiti coating is a clear coat that is applied on top of the shutter and provides a nice glossy finish over the plain or colours shutters of your choice. 
Protects against dirt and paint spray
Keeps the shutters clean
Reduces cleaning and maintenance costs
Preserves your home or business image
Explore This Trendy Technology Today
We welcome inquiries from readers interested in learning more about these in-demand rolling shutter products. They contribute to both commercial and residential properties nationwide. Contact us soon to obtain detailed information about current models, customization, and pricing. We look forward to hearing from you!
LOVE OUR CABANA ROLLER SHUTTERS
We enjoy our new shutters… it's easy and secure to use during the summer time and we feel safe to lock it down for the winter month.
ROLL UP GARAGE DOOR
We were looking for a solution to maximize space in our garage, as we have a car lift in the garage. RollerUp was amazing in finding a solution and at a great price!