About Outdoor Privacy Screens
A fully retractable rolling privacy screen holds wide appeal in the Greater Toronto Area. Use our excellent lines of products to control sun glare, optimize outdoor privacy, and enhance your comfort. A stylish privacy screen functions well in conjunction with most types of security roller shutters, too. 
We offer a superb roll up privacy screen system installation services for your convenience. Have you considered investing in this type of popular home improvement? Learn more about the advantages offered by a privacy screen system in Canada. 
Some Benefits Of An Outdoor Roll Up Privacy And Shade Screen
Why should you consider asking us to install a new outdoor roll up privacy screen system for you? Our customers love these products! Just consider a few of the important advantages screen owners obtain:
Block unwelcome sun glare at certain hours;
Reduce the impact of noise from passing foot or street traffic;
Retain the ability to enjoy excellent views through open doors and windows;
Increase your household's privacy;
Reduce the impact of uncomfortable seasonal breezes;
Add a popular, trendy permanent improvement to your residence or office!
For all these reasons, and many more, we strongly recommend our firm's excellent lines of privacy screen and rolling shutter products. Our vast collection of satisfied customers agree with us! Today, the benefits of these innovative screen and shutter systems appeal to a growing number of Toronto residents!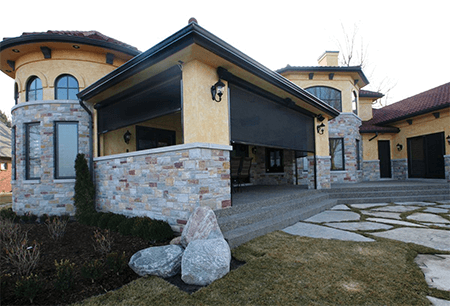 OUTDOOR PRIVACY SCREEN INSTALLATION & SERVICE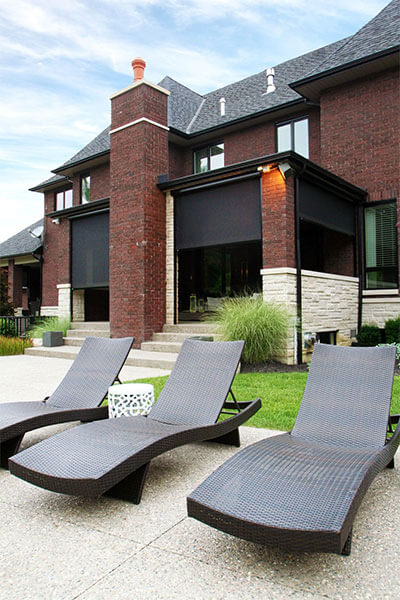 Frequently Asked Questions
Q. Will an outdoor privacy screen completely occlude my view? 

A. No. These lovely transparent screens admit some light (but they will block sun glare).  

Q. Can I select my outdoor roll up privacy screen in a color I prefer? 

A. We carry a variety of beautiful privacy screen designs and colors 

Q. Will my privacy screen deter mosquitoes? 

A. A rolling privacy screen will prevent many (but not all) flying insects from penetrating into a patio or other backyard oasis. It cannot afford 100% protection, of course.
Integration With Security Roller Shutters
Customers appreciate the seamless way a roll up privacy screen integrates with our security roller shutters systems. Request our professional installation services to ensure a perfect fit! We'll assist you in mastering the technical details of attaching a privacy screen to security roller shutters.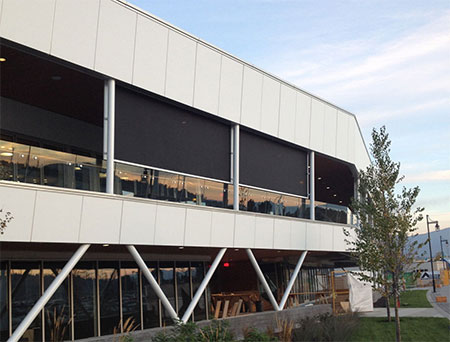 ZIP SCREENS
Our unique screen fabric is characterized by a special zip mechanism that allows for its easy and seamless installation onto a wide range of applications and structures.
What makes the zip screen unique is its windproof track that withstands as much as 130 km/h of strong wind pressure. Whatever the weather may bring, you can rest assured that the screens position and fabric tension will remain locked and intact within the guide rails.
Zip Screen: A Durable and Reliable Solution for Homes
Buying a zip screen requires careful consideration because it will act as a protective shield for your home when the weather turns nasty. It's not something you purchase randomly for your space and will impact how you live greatly. That said, when choosing the right type of zip screen for your house, strength and durability are two factors that you should prioritize. Is the zip screen built to last for many years? How much wind can it stand?
Our zip screens are designed using premium-quality and high-performance materials to deliver the protection you need when it matters. Plus, as we value aesthetics in the same vein as durability, you can expect your outdoor setup to look polished and elegant. You can be confident that our products have been tested according to standards and are built to serve you for many years.
Benefits Of Privacy Screens
Over 1800 custom colour options are also available, based on selections from the Benjamin Moore paint fan.


*Black color is a standard on certain line of products
We look forward to helping you discover all the advantages supplied by a well-constructed outdoor privacy screen. Contact us soon to request further information, or to place an order. We help residents of the Greater Toronto Area enjoy relief from harsh sun glare and uncomfortable breezes!
LOVE OUR CABANA ROLLER SHUTTERS
We enjoy our new shutters… it's easy and secure to use during the summer time and we feel safe to lock it down for the winter month.
ROLL UP GARAGE DOOR
We were looking for a solution to maximize space in our garage, as we have a car lift in the garage. RollerUp was amazing in finding a solution and at a great price!