Order Attractive Cannabis Dispensary Security Shutters in Ontario
Today, fashionable roll-up shutters help protect well-maintained properties across Ontario. Cannabis Dispensary Security Shutters from ROLLerUP Custom Shutters furnish an extra level of protection. These tough aluminum products also help discourage unauthorized entries. Businesses in Canada engaging in cannabis storage use these excellent security shutters to help enhance their commercial outlets.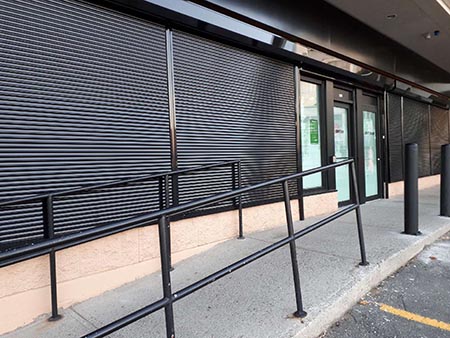 About Cannabis Dispensary Security Shutters
As a premier custom supplier of roll-up shutters, ROLLerUP markets several lines of trendy specialized shutters. The firm's in-demand Cannabis Dispensary Security Shutters appear tailor-made for certain Canadian businesses. In the wake of the legalization of recreational cannabis nationwide in 2018, news media reports suggest a shortage of legal cannabis persists.
Cannabis storage assumes a high priority for many dispensaries, in fact. Consider taking steps to safeguard your valuable inventory more effectively with the assistance of strong aluminum screens. Invest in attractive, durable Cannabis Dispensary Security Shutters.
Dispensary cabinets and shutters
Customized Shutters Enjoy Broad Appeal
Customized security shutters offer a number of key advantages. Just a few of these benefits include:
A stylish appearance allowing businesses to blend discreetly into commercial or residential locations in a harmonious, attractive way;
Tough aluminum construction (promising years of utility);
Easy, low-maintenance convenience;
Comparatively lightweight utility, permitting reasonable shipping costs;
The ability to display customized advertising or logos on the shutters (if desired).
The flexibility and versatility of these popular commercial security shutters make them a useful addition to virtually any building where businesses market or store cannabis. Proprietors simply open the shutters during business hours and close them securely at the end of the workday. ROLLerUP assists customers by supplying turnkey installation and maintenance assistance.
Available in a Variety of Colors And Styles
Take a moment to vividly picture your cannabis dispensary in Canada. Can you imagine your site equipped with new security shutters? This cost-effective improvement offers literally years of solid value. Select shutters meeting your unique colour, style, and dimensional preferences. The ability to tailor products offered by ROLLerUP holds numerous advantages from a marketing standpoint. Whether you've established your cannabis dispensary in a residential neighbourhood, a shopping mall, or a medical office complex, you have a great opportunity to refine the appearance of the security shutters to match your architectural and design needs.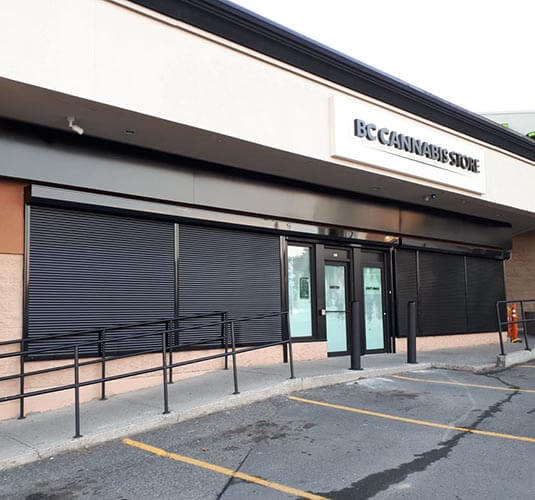 Recently, Canada joined Uruguay in becoming one of the few nations in the Western Hemisphere to welcome recreational cannabis use. Whether they market mainly to local residents or to the burgeoning international tourism industry, cannabis dispensary owners appreciate sturdy metal rolling shutters and privacy screens. Securing facilities using these products provides yet another barrier against trespassers. Gain greater peace of mind by adding this in-demand feature to your business premises today. Customers who equip their facilities with lovely rolling metal shutters can employ these products to clearly indicate their hours of operation to the public. Leave shutters open when your firm conducts business. Keep them tightly shut during periods when your dispensary remains closed. You'll help prevent confusion, hurt feelings, and potential misunderstandings by relying upon convenient, versatile cannabis dispensary security shutters. Still, in its infancy in Canada, the legal recreational cannabis trade has already begun embracing this extra security feature!
Benefits of Roller Shutters
Over 1800 custom colour options are also available, based on selections from the Benjamin Moore paint fan.


*Black color is a standard on certain line of products
ROLLerUP offers the option of an anti-graffiti coating to be applied on the roller shutters. This special coating protects the shutter surface from many elements such as paint and dirty. The anti-graffiti coating is a clear coat that is applied on top of the shutter and provides a nice glossy finish over the plain or colours shutters of your choice. 
Protects against dirt and paint spray
Keeps the shutters clean
Reduces cleaning and maintenance costs
Preserves your home or business image
Given the high demand for these products, customers discover benefits in placing orders promptly. Choose top quality, customized Cannabis Dispensary Security Shutters matching your individual business trim and décor needs. Don't wait to implement this useful upgrade. We offer turnkey installation assistance at the most convenient time for your schedule. Contact ROLLerUP conveniently at 855-576-5587 now.