Enjoy Protections with Roll Up Laneway Doors
ROLLerUP has brought its reliable and long-lasting roll-up doors to the laneway. Too often, these unattached open parking spots are a target of vandalism, theft, and loitering. That's why we are offering a safe and secure solution that finally provides homeowners with peace of mind.
We mount each roll-up garage door to the top of an existing frame. With a single click of a button, owners can engage the door as a network of reinforced aluminum slats rolls down towards the ground. Once it is flush with the base, the door fastens itself into place with robust locking mechanisms that deter unwanted entry.
In many ways, your home is the center of your world. It is where you sleep, eat, relax, and host friends. It is where you congregate with your family while providing a safehold for your possessions. An open laneway gives outsiders untethered access to your personal space.
A roll-up garage door lets you protect the things that matter most. Whether that is your family, car, or another significant item, these devices offer instant protection. ROLLerUP doors are renowned for their deterring capabilities with impenetrable slats and anti-graffiti coatings.
ROLLerUP roll-up garage doors provide protection no matter the condition. Even in the harshest winters, our powerful motors come through with the reliability and efficiency you need every day. There is even a manual override crank in the unlikely event of a power failure.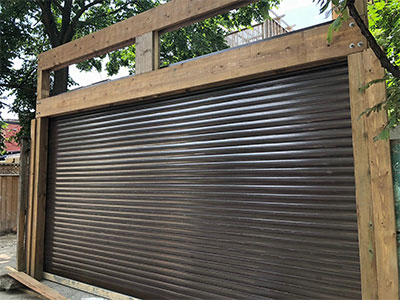 ROLL UP GARAGE DOOR INSTALLATION & REPAIR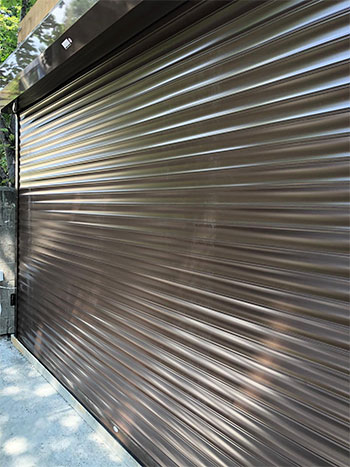 Customize Your Laneway Way Garage Door for the Perfect Fit
We design each roll-up garage door around the specifications of your property. We understand how important security is to you, and make a concerted effort to optimize our products, regardless of the project size or complexity. When it comes time to install the roll-up garage doors, you can rest assured that the door will provide an immediate and complete layer of security.
The installation process is relatively quick and straightforward. Our team of specialists can mount the device to the edge of the property or a carport. This versatility allows homeowners to not only get protection when they want it but where they want it too.
Each garage roll-up door puts power in the hands of its users. From the intuitive interface to the wireless controls to the sleek exteriors, they excel in every measurable category. It is why roll-up doors have become a must-have for homeowners with laneways.
An Added Layer of Privacy
Privacy is power. The ability to live without concerns about prying eyes is a freedom that's easy to take for granted. A roll-up garage door provides precisely that for your laneway.
The device gives an added level of privacy when homeowners need it. It puts a barrier between you and the outside world in the same way that shutters do for windows. This transformation is why countless Canadians are getting roll-up garage doors and enjoying the added security and peace of mind.
Benefits of Roller Shutters
Roller Shutter Color Options
We offer 4 standard colour option for our roller shutters and over 1500 custom colours you can choose from. The shutters can also be wrapped with vinyl wrapping, the same process that is common with wrapping cars and trucks for advertisements.


ROLLerUP offers the option of an anti-graffiti coating to be applied on the roller shutters. This special coating protects the shutter surface from many elements such as paint and dirty. The anti-graffiti coating is a clear coat that is applied on top of the shutter and provides a nice glossy finish over the plain or colours shutters of your choice. 
Protects against dirt and paint spray
Keeps the shutters clean
Reduces cleaning and maintenance costs
Preserves your home or business image
Smart, Flexible Financing Available.
With more financing options now available, anyone can be protected by our roller shutters. Ask us about our flexible financing plans.
LOVE OUR CABANA ROLLER SHUTTERS
We enjoy our new shutters… it's easy and secure to use during the summer time and we feel safe to lock it down for the winter month.
ROLL UP GARAGE DOOR
We were looking for a solution to maximize space in our garage, as we have a car lift in the garage. RollerUp was amazing in finding a solution and at a great price!