Residential Roller Shutters
Window shutters, roll up garage doors, laneway roll-up gates
Request A Quote
Commercial Security Shutters
loading docks roll-up gates, roll up reception counters a retail roll-up security grilles
Request A Quote
Special Application Shutters
Cabanas shutters, Pool House windows custom roll-up shutters
Request A Quote
Outdoor Privacy Screens
Roller privacy screens, patio privacy, shade and bug protection.
Request A Quote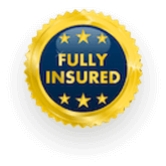 ROLLER SHUTTERS INSTALLATION AND SERVICE COMPANY
ROLLerUP is the most trusted Custom Roller Shutters installation and repair company located in Newmarket, Ontario.
We offer Customized Aluminum Roller Shutters, Outdoor Privacy Screens, Security Shutters, Balcony and Terrace Awnings, Roller Garage Doors, and Pergolas and Pavilions for Residential and commercial settings. Roller shutters are an excellent solution for any home or business owner looking to increase security and energy efficiency in their spaces. Have style and peace of mind with high-quality and reliable roller shutters from ROLLerUP.
Why Choose Us for Your Roll Up Door Installation 🥇
From residential roll up doors to commercial rolling shutters, we provide a professional hand that ensures the best outcome and maximum satisfaction. Our revolutionary solutions provide innovative design, quiet operation, and effortless automatic opening. If you are looking for aluminum roll up doors, ROLLerUP will not disappoint.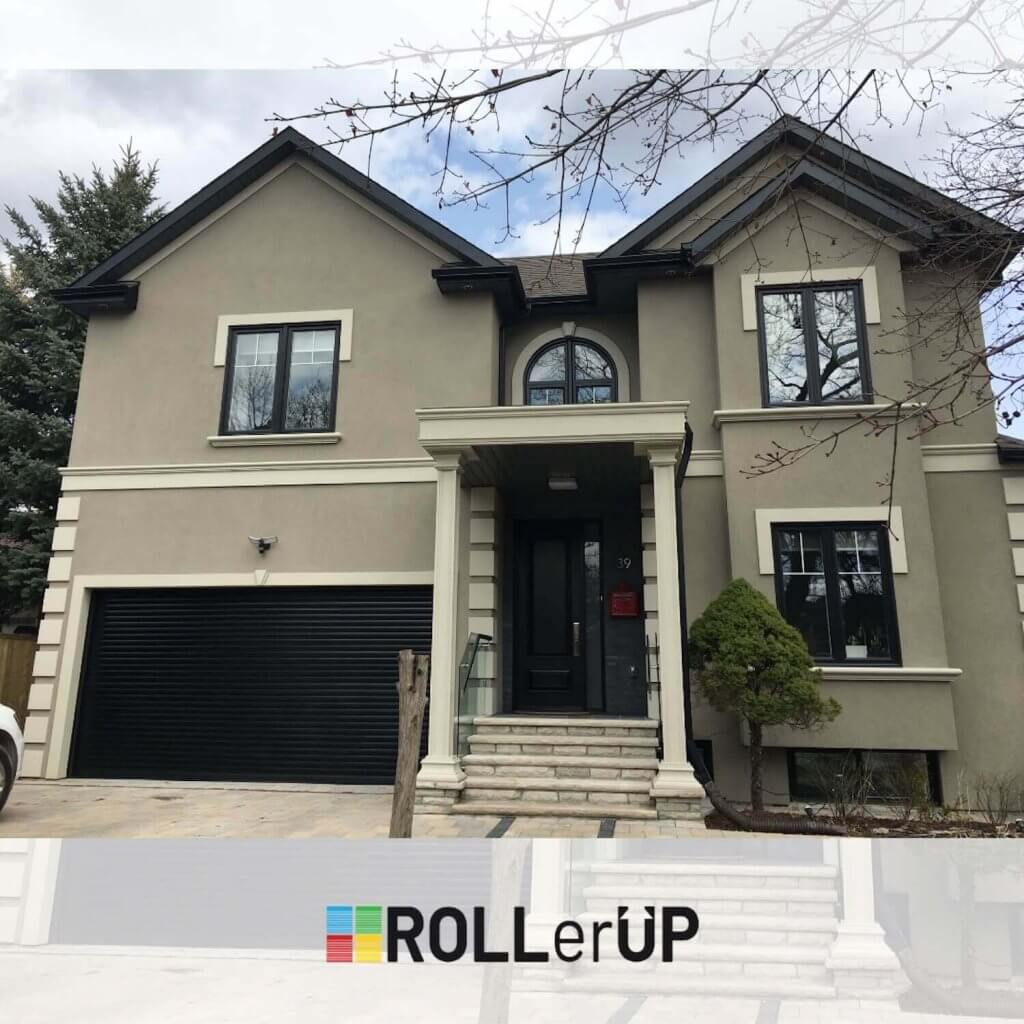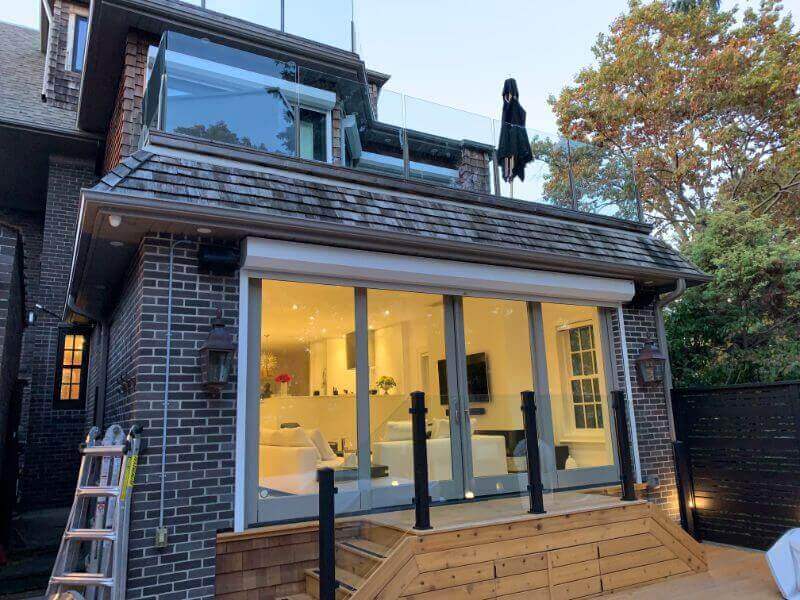 Our company provides security solutions as well as weather protection and light control for homes and businesses which offers high energy efficiency. With over 10 years of experience, the ROLLerUP security shutter company offers the knowledge and skillsets required to provide turnkey roll-up shutter services. We specialize in residential and commercial roll-up security shutters for garage doors, windows, patio doors, laneways gates, concierge desks, front stores, and a variety of other applications. Our product is customized to the client's needs and job specifications.
Window security films are retrofitted on glass and windows to provide safety from burglaries and protection from weather elements. They are virtually undetectable and inconspicuous, which makes them an excellent option for residential and commercial use. The films work by strengthening glass and providing a layer capable of withstanding forced entry, blasts, and extreme weather.
ROLLerUP specializes in aluminum pergolas and pavilions, which are resistant to the elements and rust, making them perfect for outdoor use throughout the four seasons. Our aluminum pergolas and pavilions are prefabricated in Swiss by Stobag, a premier company in the outdoor structures industry.
Retractable awnings are wall-mounted and can be manually or electronically controlled. ROLLerUP has a wide selection of retractable awnings to fulfill your specific needs at home, office, store, or any other premise.
Use our excellent range of products to control sun glare, optimize outdoor privacy, and enhance your comfort. Our privacy screens reduce the impact of noise from outside, weaken the effect of seasonal breezes, and increase your household's privacy.
We offer high-quality, sturdy, and durable roller shutters installed in commercial and residential properties to provide additional security and privacy layer. We customize roller shutters based on your security needs and other preferences. Whether you want your shutters automated or manual, we can deliver.
ROLLerUP provides strong aluminum roller shutters that can withstand inclement weather conditions such as storms, heatwaves, strong winds, and more.
Commercial property and homeowners alike put their faith in ROLLerUP shutters. We use high-quality materials that comply with local fire codes while efficiently compartmentalizing your building.
Our roller shutters are excellent in noise reduction because of their high-quality aluminum material, which blocks and absorbs noises that would otherwise enter your premises directly.
Our residential roll-up shutters come in many sizes to meet your exact job specifications and protect you from potential burglars, accidents, and severe weather. Our non-invasive shutter designs won't damage the aesthetic appearance of your home, either.
One of the easiest and cost-effective ways to attain an energy-efficient home, store, or office with excellent light control is through exterior shading, particularly roll-up shutters. You can regulate the amount of light entering your home or office, keeping it well-lit without heat accumulation.
Our team installs standard and customized commercial security shutters based on your individual needs and preferences. That includes features that prevent graffiti, dampen sound, and block unwanted light.
Our in-demand Cannabis Dispensary Security Shutters are tailor-made for Canadian locations. Businesses in Canada engaging in cannabis storage use these excellent security shutters to help enhance their commercial outlets.
HOW DO ROLLER SHUTTERS WORK?
"ROLLerUP Custom shutters installed a Rolling shutter for my clients Laneway and it looks amazing, great work and everything on time! Definitely recommend"
"Love love love my new privacy screens!!! Finally we can enjoy the breeze in our back yard pool house with no bugs and sun! Thank you ROLLerUP! Definitely recommend"
"It's so hard to get a contractor for a small job in Toronto. We had been looking for someone to install a roll-up garage door for our alley access for nearly a year when we found RollerUp. They replied to our request right away, all communications were excellent, and the work was done in just a few days at a very reasonable price. I highly recommend RollerUp."
"From initial customer service and quote (thanks Irina) through production and finally installation (thanks Ryan and Rob), the team at ROLLerUP were pros. They installed roller shutters on three upstairs windows and have done a high quality job. The finished job looks great and the shutters work like a dream. And all done in less time than they originally estimated. Great work!"
We are glad to answer any questions you might have about roll up shutters. Please contact us to schedule a free estimate and learn more about our services and products.
Our showroom visits are by appointment only.
1151 Gorham St Unit #8,
Newmarket, ON L3Y 8Y1
Weekdays 9am-5pm
Showroom by Appointment Only